Thinking of doing your own panelling? It really is as easy as you hope it is and with a standard wall costing less than £70 it's a great way to achieve a fabulous new style on a small budget!
These items are all the products I used in my wall panelling that I recommend. They are affiliate links which means I receive a little referrer bonus if you buy them but it's at no extra cost to you!
Step 1: Set your measurements
The single most important part of starting your board and batten project!
Calculating the spacing between my battens boggled my mind. Do I include the first one? Do I measure from the middle of the batten to the middle of the next batten? Near side of the last batten to near side of the next batten? I was completely overthinking it and so I built a spacing calculator further down for everyone else going through the same difficulty!
First, you will need to have a general idea of how many battens (or gaps, which is battens-1) you would like. To do this just try standing your strips of MDF against your wall and count them up. You can always play around with the calculator and see how it looks with more or less gaps. Don't forget to include your first one!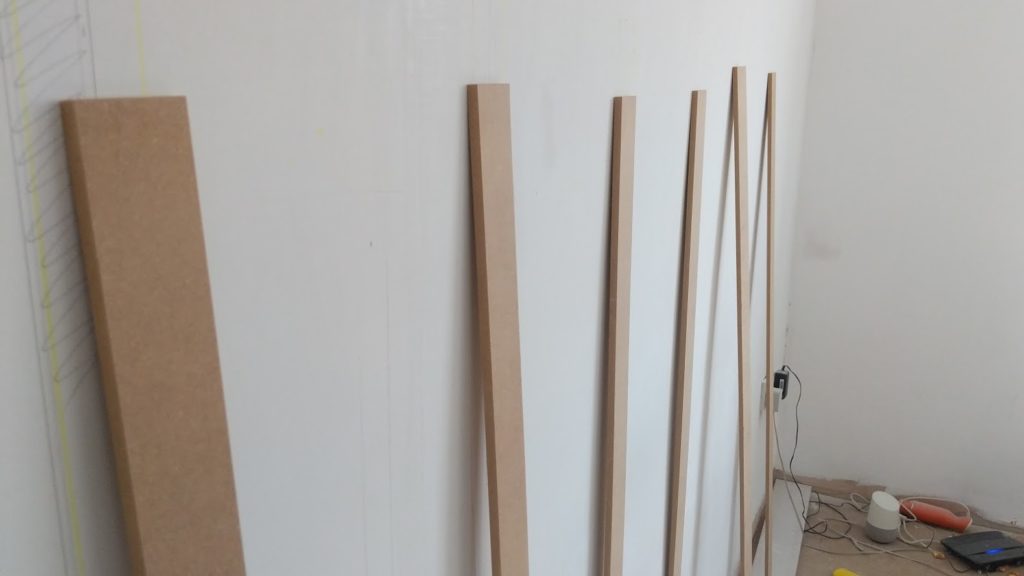 For those that want the caculator, keep scrolling. For those that like a manual calculation it goes like this: 
Number of battens (A)  x Width of battens (B) = C
Wall length (D)- Total width of all battens (C)= E
E/Number of spaces (A-1)= Spacing width! (F)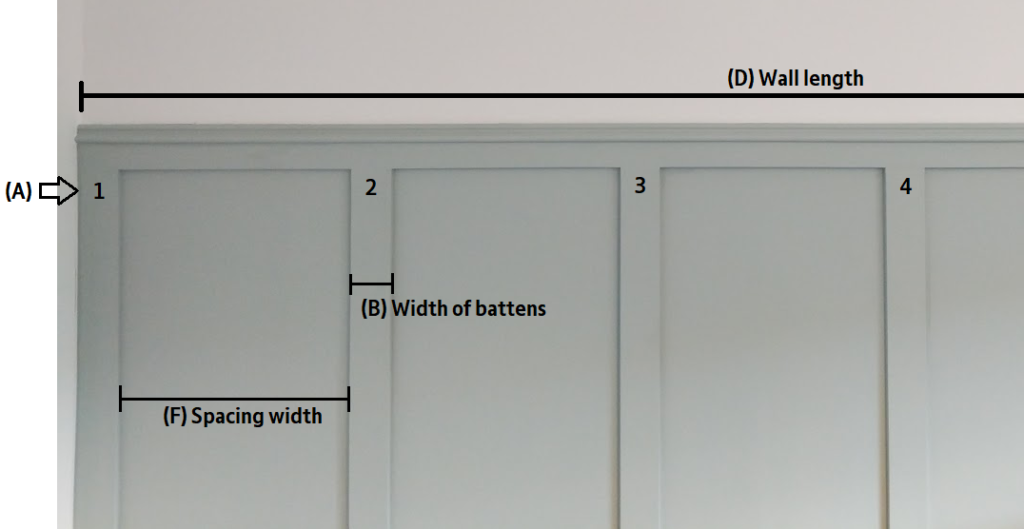 Step 2: Set out your horizontal (bottom) strip
Lay your first strip(s) of MDF along the top of your skirting board, it's important this is level as it will set out your entire panelling (if your skirting is level then your MDF should be too, but it's good to double check!)
Fasten to the wall as in step 3.
Step 3: Fastening to the wall
There are lots of different ways to secure your MDF strips to the wall. I started off using Gorilla Wood Glue but found it far too runny and it made a mess of my skirting board so I switched to 'Evo-Stick: Sticks like…'. This requires the gun that you would typically use for silicone etc but is a more solid glue and as the name suggests, is a SUPER strong adhesive (probably more than you need for this kind of project but that can only be a good thing!).
I then hit a couple of nails into the wood to stop it from slipping while the glue sets. Your nails should have a very small head on them and you should drive them past the surface of the wood slightly (not all the way!) by using another nail and your hammer to push it in.
Step 4: Setting your vertical MDF strips
Starting with your first batten on the left, put your MDF into your corner and check how level it is with your spirit or laser level. I used my Leica Lino L2P5G device which was kindly gifted to me by leica. Don't just assume your corner is already straight as sometimes the wall can be out.
Even if you need to leave a gap in the corner because your wall isn't quite straight, don't worry… just go with it because you can style it out with caulk and filler later.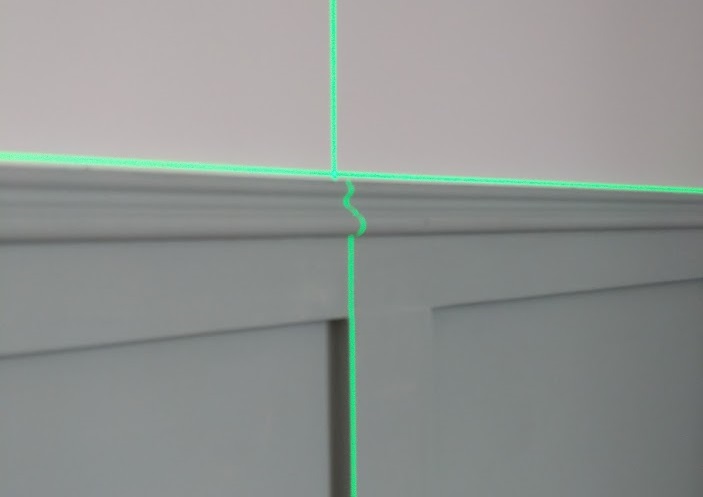 Step 5: Continue along the wall
Once your first MDF strip is secured in place using step 3, measure out the distance you calculated earlier, starting from the right side edge of the first strip and mark the wall.
This mark will be where your next MDF strip starts but before you apply glue to your strip, place a level against against it and draw the levelled line down the strip. This will act as your guide. You don't have to go all the way to the bottom with your pencil but once your MDF has glue on it this guide will definitely help and save you smearing glue over the wall as you level it for the first time.
Step 6: Preparing for paint
Another very important (but boring!!) job!
You have to remember that you're not actually putting board on your wall. It's a big fake. Therefore it's important that the wall between your slats is perfect. Go over it with filler and sandpaper and make sure there are no imperfections. 
You also need to do the same for your MDF. Use wood filler on your nail holes and any joins.
If you're making any other finishing touches, now is the time to fasten these too. Some people like to have a thin shelf running along the top of their panelling. I went for a dado rail.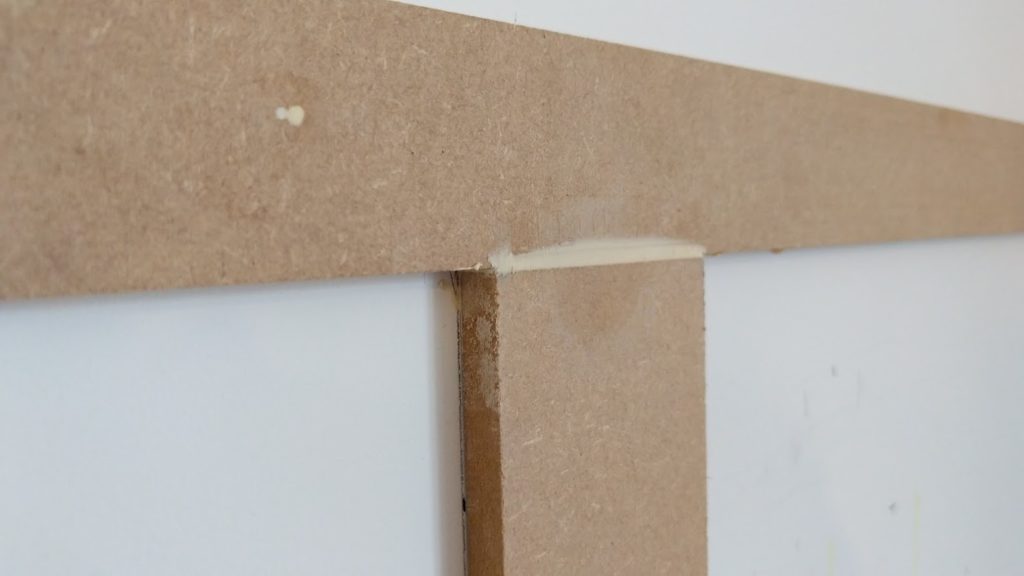 But not quite the fun type of painting yet!
Now that your MDF and wall is all sanded and smooth, you need to put primer on the MDF. MDF has a terrible way of going fuzzy when exposed to paints and other moisture. Primer will prepare the surface and with the secret to MDF being layers, it will give you the opportunity to sand all the fuzz away and give you a smooth finish.
Using a paintbrush and primer (I used Leyland) give your MDF a coat all over, not forgetting the thin edges pointing out to the sides.
Once dry, give it a sand using a medium sandpaper to remove the fluff. I ran my sandpaper down the edges a couple of times to take off the sharpness too.
Next, remove all the dust with a vacuum (I use a baby wipe and let it dry too!) then apply a second coat of primer and repeat.
Step 8: Painting (the colour!)
Once you have applied 2 coats of primer and sanded between each coat, make sure your panelling is entirely dust free (vacuum and a baby wipe!). Run a small bead of decorators caulk down the edges where your MDF meets your wall. This is an important step to make sure your paint doesn't crack and to ensure you can't see the join.
Once dry, cut in with your colour and then use a foam roller for applying your colour to your MDF. You can also use a paintbrush but I find a roller gives it a much nicer finish.
Sand down and repeat with a 2nd coat of colour.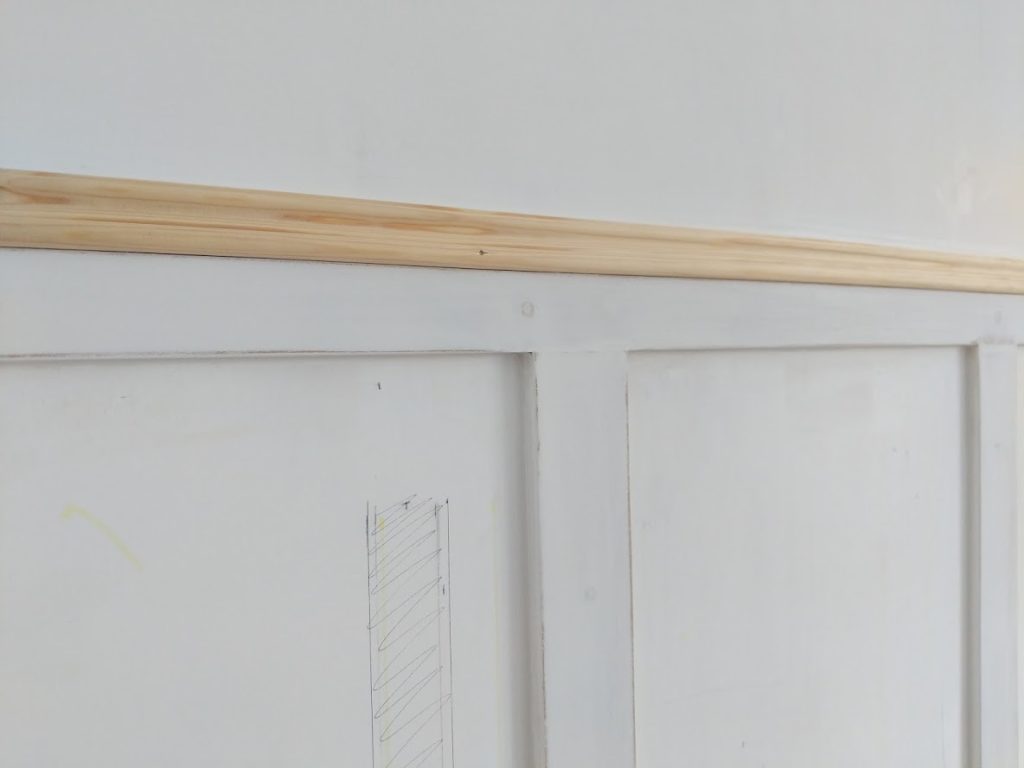 And you're done!
I hope this has helped you to achieve your own panelling look. If you're sharing on Instagram do tag me at @Our_London_Home so I can see how you got on!
Good luck!
Hannah x